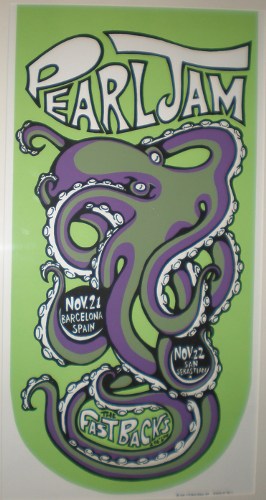 Fecha: 21/11/1996
Recinto: Palau d'Esports
Aforo: 8.000 personas
Teloneros: The Fastbacks
Prueba de Sonido: (70 minutos)

Parting Ways
instrumental
Around the Bend
In My Tree x2
Hard to Imagine (versión de 16 minutos)
Garden
Leaving Here
I'm Open (versión de 10 minutos)
Listado de canciones:
Wash
Last Exit
Hail Hail
Animal
Red Mosquito
Who You Are
Corduroy
Better Man
Off He Goes
Habit
Even Flow
Jeremy
Daughter / (Happiness is a Warm Gun) / (Bull in the Heather) / (Androgynous Mind)
Sometimes
Lukin
Rearviewmirror
Immortality
Alive
Porch
Mankind
Once
State of Love and Trust
Present Tense
Smile
Blood / (Fame)
Notas:
Parting Ways que fue ensayada en la prueba de sonido no aparecería en un disco hasta 4 años después cuando se publicó Binaural.
Eddie se dirigió al público en repetidas ocasiones pidiendo que la gente tuviera cuidado.
En la parte de Habit dijó en español "Hablando como un niño de los 90s".
Stone se presentó antes de Mankind diciendo "Que pasa? I'm gonna sing one for you".
En el último bis, Eddie se dirigió al público en inglés diciendo: "OK, en inglés; esta es una nana, así que cuando vayáis a casa, tened dulces sueños, y empezaron a tocar 'Around the Bend'. Al finalizar se despidió con un "Adios, amigos. Buenos noches."
La canción de Smile de este concierto fue incluída en el Xmas single de este mismo año.
Grabaciones:
Audio: Descarga este bootleg en este enlace.